Mexico: In the stages along with Miguel Fleta
On September 20th 1922 he started the new season with the San Carlo Opera Company, but he finished it sooner than expected on November 15th, probably to attend the offer he received from his colleague and fellow Andrés Perelló de Segurola. Perelló de Segurola was now an opera manager in Mexico and he offered him to sing along with Miguel Fleta. The performance would last a month and they played in the Esperanza Iris Theater and in the El Toreo Theater. It was his first appearance with Miguel Fleta, but Vicent met again with his old castmate Miguel Santacana. Ballester was praised as usual by the newspapers even if he had a star like Miguel Fleta singing along with him.
And the new Metropolitan baritone was finally announced
Again, I have no news of him for the following 6 months. He's back in the Century Theater in New York on June 10th 1923 where he was part of a tribute concert to the American Legion veterans. He was presented as the new Metropolitan Opera House baritone.
The serious illness that prevented his performances at the Metropolitan
A few days after his performance in the American Legion Veterans tribute, Ballester joined the Ravinia Park summer season in Chicago, from the end of June until September 1923. He sang along again with Graziella Paretto, Giacomo Lauri-Volpi, Tito Schipa, Armand Tokatian and a large set of famous singers. The newspapers reviews said that "Ballester had gained weight… however his voice has gained in presence". Everywhere the reviews are very positive.
He signs the contract but again, he doesn't perform because a serious illness right before his debut. In a piece of news from the "Musical Courier" magazine from December 20th 1923 a reference can be found: It seems he had tonsillitis surgery. Even there was a great expectation for his performance in the Metropolitan, I don't know what happened to him or his whereabouts. I have medical records from that time, provided by the Metropolitan, that show that there was something else quite serious even forcing his manager to intervene.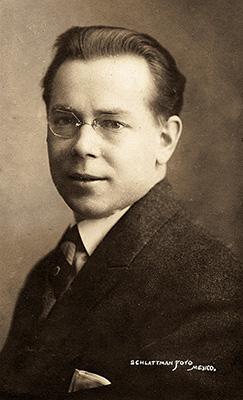 Mexico, December 1922 - Portrait of Vicent Ballester